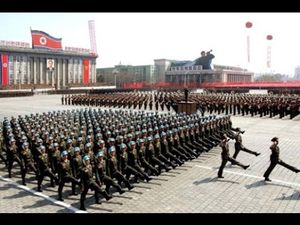 I probably could have titled this one "The IT Department's Lament" because I can't even begin to tell you the technical problems that unfolded while putting this one together. I won't weary you with the details but if your curiosity just can't be quelled, feel free to drop a line to helpdesk@jonjamesisdead.com.
Outside that, Todd Lester says this is his favorite track on the record, and I appreciate that feedback because his tastes are better than mine, objectively, across the board. Also, I couldn't get the vision of the North Korean military marching lockstep through Kim Il-sung Square in Pyongyang, out of my head. My son is pretty slick with Adobe Premiere Pro so I was thinking he ought to pull himself up by his jackboot straps and make something for me in the vein of totalitarian montage.
But he's busy recording his own album, "The Ballads of a Gamer," under the pseudonym "G.I. Bro." He'll be doing a digital release of his own this spring. 14-year old fun and hooks galore. Not kidding.