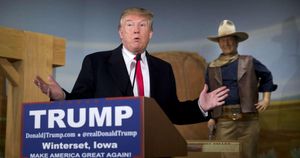 Promo copy for the single
@ CD Baby Store
One-eyed Fat Man (Piss In The Wind)

"I realize this whole business of people writing about themselves, promotionally, in 3rd person is all a bit preposterous," says Benson.

So, let's roll.

J.J. plays a fairly mean-and-loud electric guitar (although sometimes he plays it unfairly). In the parlance of repelling corporate jargon, "it's in his wheelhouse." Last year, he bucked that easy chair and released a marathon, intimate album of acoustically-based, lovelorn balladry (Clutching At Straws). This, quick on the heels of a sample-heavy instrumental electronica record without a lick of guitar (Vairagya).

You might say he's being difficult. He contends your actual marketplace is fraught with certain difficulties. It operates under the hornswoggle that people who create stuff ought best be put in reassuringly tidy cartons for easily digestible consumption. He thinks the crux of creative endeavor is more aptly about doing whatever the feck you want. Which is often about delving into the unknown. But rest assured he's becoming predictable in his orneriness surrounding such things.
As such. Here's a recent rummage through the indefinite. Benson wrote it on acoustic guitar, then mapped it into electronic format, then sang into a microphone with the air conditioner whirring in the background. Then he ditched the guitar parts. Again.

It sounds like who-the-eff knows. Oscar the Grouch goes EDM. Loverboy meets TV on the Radio. Howard Jones meets Molecular. Beck in a synth-metal time warp. Peter Murphy if he was a soprano with a sinus infection. The singer-dude from Midnight Oil on a bad hair day. Richard Ashcroft doing a collab with that Scandinavian savant who came up with the epic earworm in The Final Countdown.

"Dedicated to Orange Heap #45," says Benson, "with the tagline: piss in the wind. Because you're feeble, ineffectual, an empty excuse and an affront to actual human valor. 'I call that bold talk for a one-eyed fat man.' Thanks, John Wayne. And thanks, Don, for your small hands and your indomitable shame complex."