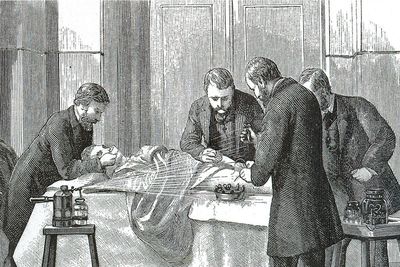 Continuing in the vein of my New Year's Eve post, I'm gonna keep riffing on contradiction and incongruity.
Perhaps it'd be helpful to try hoisting some affirmative structure upon my usual standard lack of methodology. Outlines were a big thing in elementary school. Do they teach this nowadays? I found them infuriating, which is probably why they stuck. Anger can be a splendid motivator. Ostensibly, it could look like this:
 
I. Yes, as acknowledged, I understand it's confusing that after a lifetime of playing conventional rock-n-roll music I'm suddenly heaving this electronic stuff onto the pile.

II. Last night, I couldn't sleep.
A. This is a long-standing challenge.
B. I used to fret about it; lie in bed and cogitate about how I was going to get some rest before the morning.
C. For those not in the know, I assure you extracurricular cogitation does not encourage quality slumber.
D. Sometimes Evening In Missoula does.
III. My solution to said insomnia is to get up and dabble in something creative.
A. Sometimes, I write.
1. You know – words and stuff.
B. Sometimes, I tinker with electronic music.
1. I find it gets me in the zen zone and time tends to scatter to the winds.
2. Yes, I know the blue screen thing is counter-productive to sleep.
3. But I tend to not care about that so much when I've mistakenly made it my specific aim to be productive at 3 AM.
IV. Last week, an old friend (hi, Brian) suggested I upload some of my electronic stuff to a website.
A. He said since there is some stylistic variance to the tracks I might try classifying each one by genre.
B. I realized I have no frikkin' idea how to do this, since my knowledge of the medium is severely constricted.
C. Alas, I just like playing around, building these things from the ground up and seeing what emerges.
D. Last night's song was further evidence of this trend, as I'm pretty sure I was confusing some sort of house music sounds with hip hop.
1. Don't quote me on that.
2. It was mostly a gut feeling sort of thing anyways. Yes, I know we're living in the age of facts (not feelings) because I read the news today, oh boy.
V. Irrespective, the word cross-contamination popped into my head.
A. Did you know Joseph Lister's getting people on board with the idea of antiseptic surgery was quite the undertaking?
B. There was a lot of opposition from his colleagues, given the accepted methods of the time.
C. Apparently, it was his character that eventually won over the establishment at large. He was considered a "moral exemplar" and  "role model of the gentleman professional."
D. This is something you don't need to worry about with me.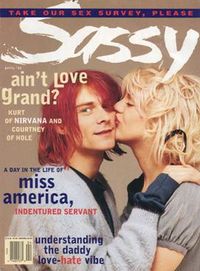 VI. One of these statements is true:
A. I'll be featured on the cover of next month's issue of Sassy magazine.
B. Since the new electronic song is clearly cross-contaminated, I decided to name it Antiseptic.
1. If the latter statement is true, you might opt to listen to it here.
VII. After I was done mixing it, I did a thorough cost-benefit analysis.
A. My grade in managerial accounting, sophomore year, University of Iowa, Iowa City: D+
VIII. Then, I did a breakdown of potential long-term versus short-term gains.
A. I decided, as with last week's track – Don't Give A Hoot – to also make Antiseptic downloadable for free.
B. Don't ask me why. Oscar Wilde already told you:
1. "Love is a wonderful thing. It is more precious than emeralds and dearer than fine opals. Pearls and pomegranates cannot buy it, nor is it set forth in the market-place. It may not be purchased of the merchants, nor can it be weighted out in the balance for gold."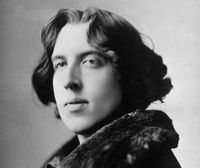 IX. Someday, I'll compile a handful of these new tracks and release them for distribution. Maybe.
A. Until then: legal looting for you. Woo-hoo.
B. Also, I don't want to deal with the distribution Arm of the Industry this particular week.
X. Why?
A. (You may ask.)
XI. This is where I cross-contaminate not only between genres but also within a blog post.
A. You see, my CD distributor contacted me last Friday (1/4/19), the purportedly slated release date for Clutching At Straws.
B. I'm informed at this quite late date they cannot sell my physical CD online because it does not conform to packaging standards.
C. This, after having two protracted online conversations with one of their resident experts about precisely what I'd be providing and them assuring me it would be perfectly acceptable.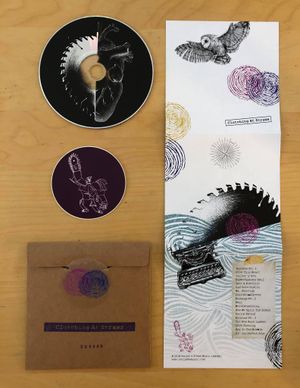 D. Acceptable or not, the CD packaging is cool.
1. It was designed by Mike Novak.
2. They are all hand assembled by moi.
3. They include, in addition to the disc:
a. Mike's foldout, replete with grand imagery.
b. A sticker of a drawing by my son.
i. It's an album emblem.
ii. Say that 10 times fast.
iii. Fashioned for/after the song Buzzsaw, versions one, two and three.
c. A download card for my recent electronic album, Vairagya.
d. Each copy is hand-stamped with a unique number, 1 through 300, and sealed with a wafer sticker.
E. So, I'm gonna have to figure out a different way to sell these online.
1. Maybe Bandcamp.
2. Maybe an Etsy shop.
3. Maybe you have a suggestion.
4. If so, hit me up.
5. Or, if you want one, drop me a line – helpdesk@jonjamesmusic.com – and we'll work it out.
F. Until then, Clutching At Straws is available, digitally, via numerous online retailers.
XII. Recent developments have impressed upon me a personal tendency to do most things the hard way.
A. As I consider the evolution of my personal brand, the words "convoluted eccentric" come to mind with ferocious immediacy.
B. Or, as mom always used to say: "Jonathan, you're incorrigible."
C. Dear Lister would no doubt be dismayed.
D. Hopefully you, Dear Listener, will not.